Jorian Baucom and the 96 Girls ECNL and Nicole Seaman and the 98 Girls ECNL have been mentioned in the Top Drawer Soccer ECNL Preview:
ECNL had a busy weekend to cap off February with a National Showcase Event in Frisco, Texas. Now, as the calendar turns to February, there is a lighter slate of games ahead to start off March. Below is a highlight of some of the games from each age group.
U14
Colorado Storm makes its return to ECNL action in the U14 age group. Storm has the most potent attack in the youngest age of the ECNL with 58 goals scored this season. Forward Elisabeth Geraghty has 19 goals in 13 games. Fellow attacker Allison Schlegel has 13 goals and 10 assists to her name in her first ECNL season. In Texas, FC Dallas is looking to build off a successful showing at the Showcase last week with a road game against Challenge SC on Saturday. FC Dallas is in second in the Texas Conference with a 7-3-3 record. Ariel Diaz leads the squad in scoring with 10 goals in 14 games.
U15
The Midatlantic Conference is the stage of the top clash in the U15 age group over the weekend. Freestate Soccer Alliance (5-0-0) takes on FC Virginia (8-0-1) on Sunday at Centreville High School in Clifton. Freestate has dominated the competition in conference play this season with 10 goals scored and 0 goals conceded. FC Virginia has been just as dominating with 26 goals scored in its nine fixtures. Julia Phillips, Tess Sapone, and Jasmine Warren have combined to score 13 goals.
Colorado Storm, the second place team in the Mountain West Conference, has a busy weekend ahead with games on Thursday, Saturday, and Sunday. Storm will get tested with two games against the third place side SC Del Sol as well. Amanda Lopez is leading the way for Storm with eight goals in 12 games. Nicole Seaman has been the main threat for SC Del Sol with seven goals this season.
Nicole Seaman

U16
Minnesota Thunder could take over the top spot in the Midwest Conference with a positive weekend against Vardar and Michigan Hawks. Thunder is 11-1-1 on the season and riding a four-game winning streak since returning from winter break. The Thunder will not have an easy go of it though. Hawks and Vardar are in third and fourth place respectively in the conference. Vardar's dynamic attack has been difficult for most defenses to stop this season. Vardar striker Annie Walker leads the attack with 14 goals.
Charlotte Soccer Academy wraps up its regular season on Saturday with a game against CASL Chelsea Ladies. CSA is in third place in the conference with a 9-3-3 record. Forward Lauren Lucas and midfielder Gabrielle Deaver have both scored seven goals this season in ECNL play for the North Carolina club.
U17
Ohio Elite Soccer Academy hosts two Virginia clubs over the weekend in Midatlantic Conference play. Ohio Elite Soccer Academy is in third place in the conference with a 3-0-1 record.  Midfielder Sydney Dudley has gotten off to a great start with six goals in seven games.
Utah Avalanche is looking to extend its winning streak to nine games with games against Sereno Soccer Club and SC Del Sol over the weekend. SC Del Sol is currently in first in the conference with a 7-0-1 record. The Arizona club has a talented roster that includes youth national team standout Jorian Baucom.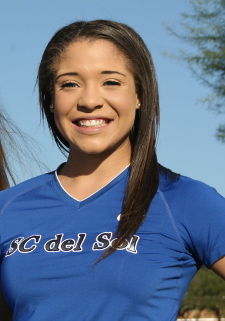 Jorian Baucom
U18
CASL Chelsea Ladies are looking to cap off the regular season with an undefeated record in Southeast Conference. Standing in the way is the absence of head coach Damon Nahas (he is with the U15 Girls National Team in Chula Vista) and a game against Charlotte Soccer Academy on Saturday. CASL's dominance has rarely been tested this season with only seven goals conceded.
In Indiana, Carmel United is looking to continue its undefeated start to conference play this weekend with games against Richmond Strikers and Virginia Rush. Emma Dwenger and Victoria Doss have combined to score nine goals this season for Eric Nance's side.